Founded in Trieste in 1831, the Generali Group is the leading insurer in Italy, and one of the most significant players in the global insurance and financial products market.
Over almost 200 years, we have built a multinational group that is present in more than 60 countries, with 470 companies and nearly 80,000 employees. Our group aims to become the standard bearer and industry leader in the European retail insurance market, building on our existing base of 50 million retail clients, out of an overall total of 72 million.
Since the very beginning, our strong international vocation has set us apart and is one of our greatest strengths.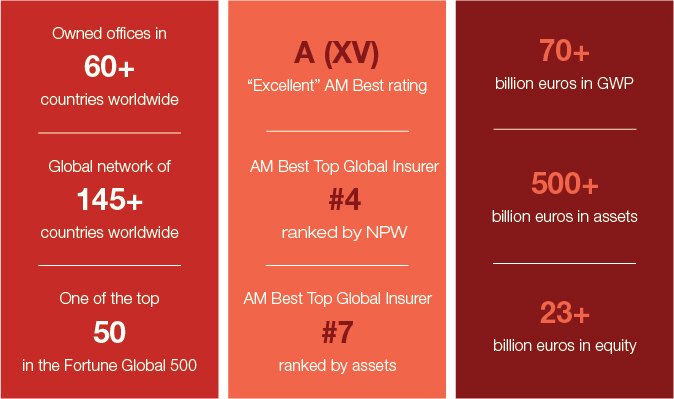 VISION MISSION AND VALUES
Our Vision, Mission, Values and Code of Conduct set the basic expectations for everyone who works on behalf of Generali.
To actively protect and enhance people's lives
Actively: We play a proactive and leading role in improving people's lives through insurance.
Protect: We are dedicated to the heart of insurance - managing and mitigating risks of individuals and institutions.
Enhance: Generali is also committed to creating value.
People: We deeply care about our clients' and our people's future and lives.
Lives: Ultimately, we have an impact on the quality of people's lives: wealth, safety, advice and service are instrumental in improving people's chosen way of life for the long term.
To be the first choice by delivering relevant and accessible insurance solutions
First choice: Logical and natural action that acknowledges the best offer in the market based on clear advantages and benefits.
Delivering: We ensure achievement striving for the highest performance.
Relevant: Anticipating or fulfilling a real life need or opportunity, tailored to local and personal needs and habits, perceived as valuable.
Accessible: Simple, first of all, and easy to find, to understand and to use; always available, at a competitive value for money.
Insurance solutions: We aim at offering and tailoring a bright combination of protection, advice and service.
The Generali Code of Conduct is our guide to doing the right thing. Our Code sets ethical expectations of everybody working for, or on behalf of, Generali all around the world.
Having a common set of Values and clear ethical expectations in our Code helps us to make choices in a consistent way and enables our workplace to continue to be an environment where frankness, openness and candor can be relied upon. When anyone is faced with an ethical dilemma, our Values and our Code will guide them.
Our managers are expected to be role models for our Code and to make their teams feel comfortable asking questions about whether certain behavior or business proposals are in line with our Values and the principles of our Code. In addition, online and instructor led training programs coupled with a comprehensive communications program ensure that all our employees are fully aware of the importance of our Code and their responsibilities to speak up if they have any concerns.
Everyone is encouraged to voice concerns or ask for clarification on any aspect of our Code. To facilitate this, we have both local and Group level reporting channels available for people to report any concerns in all of the countries we operate in. Confidentiality is guaranteed and we have zero tolerance for any form of retaliation.